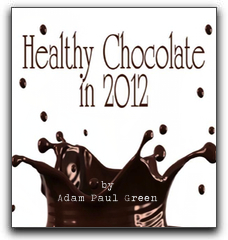 Announcement for my chocolate friends in Anderson, Indiana:
I have written a new ebook about Healthy Chocolate to start off our new year. This book is free to download for all Xocai distributors in Anderson, Indiana. Please use this as a resources as you teach your prospects about Xocai Healthy Chocolate.
I wrote this book with the intentions of helping people in Anderson better understand their health, and how healthy dark chocolate can be a significant source of anti-oxidants and polyphenols, and a healthy way to snack without filling your body with sugars and fats.
Download my Healthy Chocolate eBook
As you know, I am passionate about chocolate, and with Xocai I can be healthy, too!
I hope you enjoy my Chocolate eBook, and find it useful in your local Anderson Xocai endeavors.
Join Me Today!

I'm Adam Green, and I am creating a new team of serious leaders at Rain International, one of the fastest growing direct marketing companies in the world. We sell industry-leading seed-based nutrition products for an active lifestyle in Anderson, Frankton, Daleville, and Middletown. I am seeking experienced network marketing leaders in the Anderson area.
If you are an experienced network marketing leader, please call me today: 801.809.7766
The URL for my personal Anderson Rain International web page in Anderson, Indiana 46016 is http://adampaulgreen.com.
Ask Me About Joining Rain International
Join my Fast Growing Team at Rain International, where we are focused on revolutionary seed-based nutrition products for a sustainable, healthy, active lifestyle.
Call Me: Adam Green at 801.809.7766 for more Info.
About Rain International
Rain is the world leader in seed-based nutrition, a revolutionary new active lifestyle supplement that delivers unprecedented nutrition in concentrated amounts from seeds.
Seed nutrition is not only one of the most sustainable sources of food energy on the planet, it also supports a uniquely active lifestyle for athletes, active adults, and people constantly on the go. Click the phone icon below to call me right now…